Disclosure: This post may contain affiliate links, which means we may receive a commission if you click a link and purchase something. Please check out our privacy policy for more details.
Here is a little bit of Feng Shui you can implement right away,
Make sure you check back each Monday for your weekly dose or Subscribe via email.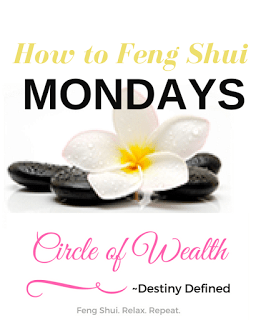 Picture this, you and your fun loving family are House Shopping! Very excited as this is a major purchase in your life, probably the most important and most expensive. Perhaps you have brought the little ones with you as well, after all it is a family event, we are all excited. Now ask yourself,  If you were going to purchase this home today? Would you?
Why or why not?
You to do for implementing good Feng Shui is to put on your Feng Shui Vision and take a  good hard look at the front of your home. Is it pleasing to the eye?
If not here are a few things to implement right away.
Ensure to hose down or sweep this area from the street to your home's front door/entrance.
Make sure to repair any cracks, broken cobblestones etc.
Fix any lighting or add some if it is too dark.
If this is a straight path, add some flowers or evergreens.
If it 'Tis the Festive season, add a nice wreath to the door.
Add some flowers or plants in pots along the way to curve the chi (aka energy) flow so that it meanders up to your home slowly.
Another tip, Does your front door look welcoming to child?
 Add something whimsical or fun or childlike to attract the chi into your home. The other day I had a little boy try to steal my metal frog and mushroom, that is good chi!
I hope you enjoyed this article and remember to share it with your friends~because Sharing is caring!
P.S. – Have you joined our amazing secret 
Facebook group
 yet?
P.P.S. – Here's the link to read and join our 
Facebook Page
. Don't forget to like us!
Also, please subscribe to our email list.