Here is a little bit of Feng Shui you can implement right away, Make sure you check back each Monday for your weekly dose or Subscribe via email.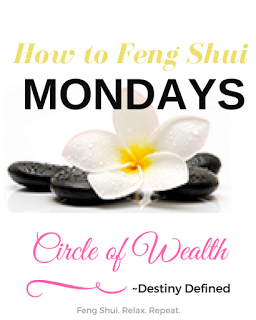 A couple of "Feng Shui Mondays" ago… we learned about the Cosmic Trinity of Feng Shui and how it affects us in our daily lives, in case you missed that mini-lesson you can read about the History and my explanation for Feng Shui here.  The article was called "What is Feng Shui?"  Very Important first step in understanding.


Then we learned about the Curb Appeal from the street, and the importance of the Good Chi finding it's way to your home, then we implemented a few simple tasks and voila!
Now that the walkway to your home  is clear and inviting and  has allowed the allowance of meandering chi/energy to your  Welcoming front door / main entrance.  You are ready to step inside your home to collect the chi inside.If you have been following along you should be ready to take it inside. If you need to go back to our last lesson on The Main Entrance you can read it here. WHY? Because if the chi can't find your Front door, then you can forget about it finding the inside of your home. So here we go, Inside your home in your Front Foyer is our Mini lesson for today.
 Week 4 : Inside your Home in Your   Front
Foyer- 
Go Outside your main door, take a deep breathe and walk back into your house with your eyes closed.  Breathe in a few more deep breathes, now pretend your are a guest coming over for the first time, breathe in again and open your eyes!So, As soon as you walk inside your home what do you see?
Is it welcoming?
Does it scream "Honey, I'm home, in an all "neat and tidy" happy kind of way?
Do you like it?  
What are your first impressions of the people living in this home?
Does it reflect you and or your family?
What is the line of sight go? ( this is where your eyes go, usually the far left corner of any room) Does it make you smile? If not we have some work to do.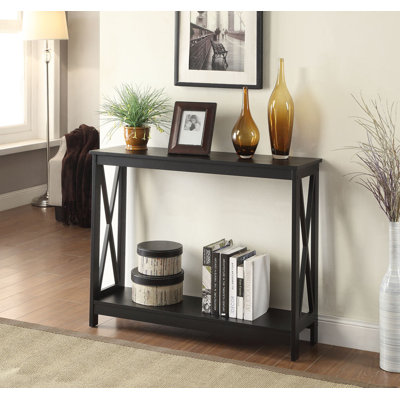 Washington table for front foyer- source Wayfair.ca
First, Do a quick tidy, remove all clutter,
shoes, mail keys etc.and any other eyesores that bother you from the inside of the front door. Create a space for these items by implementing a command centre or table to rest your purse, keys etc.
Put away all coats and
make sure that you have a place to take off your shoes nearby. Remove any extra shoes that are not being worn.
Put something you like to look at in that line of sight that makes you smile, be it nice fake flower arrangement,  hang a Beautiful piece of artwork, a nice table with a lamp you love, or a plant, or perhaps a gorgeous figurine, maybe some favourite family photos. (that is my personal favourite)
Make sure that all the clutter has a home. If not find one for it, even if it is as temporary as a laundry basket and bring it to the basement or closet to do tomorrow. Right now, take a swiffer or vacuum and clean your nice front foyer.
and …
Smile! You did it!
I hope you enjoyed this article and remember to share it with your friends~because Sharing is caring!
Got Feng Shui questions? You can email me at danielle at circleofwealth.ca